Community involvement at Sallerton Wood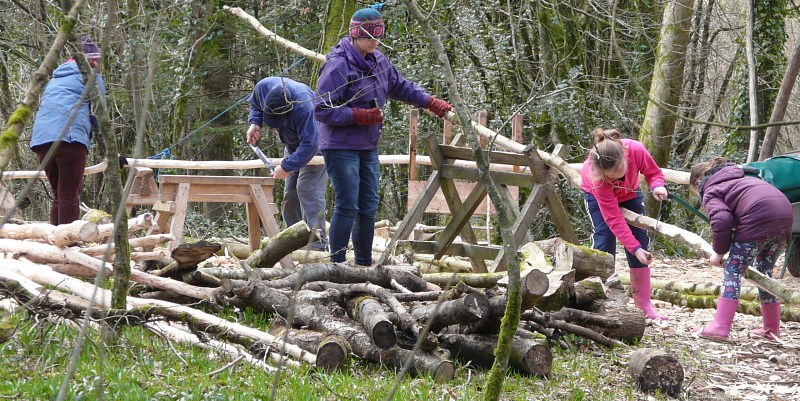 Bere Peninsula residents working at Sallerton Wood
Events Calendar
Date
Title
Theme
Participants
Reports
Sun. December 4th 2016, 10am-4pm.
Woodland Conservation Workshop
Coppicing
Bere Peninsula residents
Photos
Sat. 15 March - Sat. 22 March 2017
Woodland Development Week
Making Sweet Chestnut shingles for the utility shelter roof.
Bridge construction.
Friends and local residents
Photos
Sat.-Sun. May 20-21 2017, 10am-4pm.
Woodland Craft Workshop
Green Woodwork and Camp Craft
Bere Alston and Horrabridge Scouts
Photos
Sun. 3 December 2017
10am-3pm.
Babes in The Wood
Family Day
Woodland fun for all the family
Local residents
Sun. 7 January 2018
10am-3pm.
Babes in The Wood
Woodland fun for accompanied 0-5 year-olds
Local residents
Sun. 4 February 2018
10am-2pm.
Babes in The Wood
Family Day
Woodland fun for all the family
Local residents
Sun. 18 March 2018
10am-2pm.
Babes in The Wood
Woodland fun for accompanied 0-5 year-olds
Local residents
Sun. 1 April 2018
10am-3pm.
Babes in The Wood
Family Day
Woodland fun for all the family
Local residents
Babes in the Wood
Woodland education and fun for accompanied children.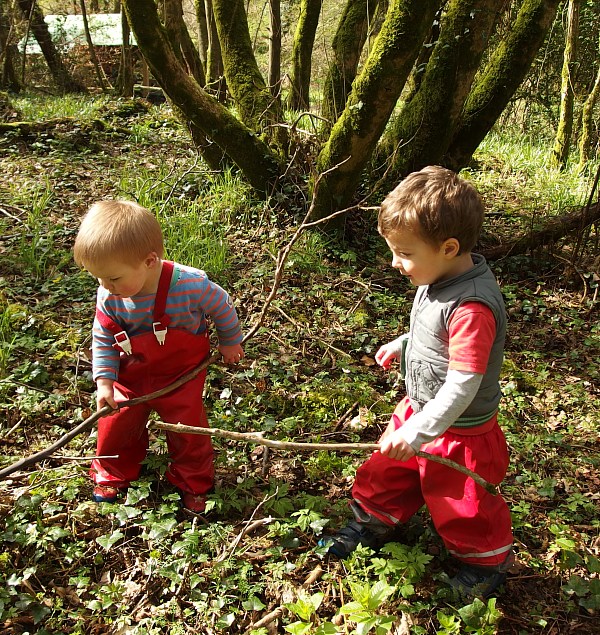 Those wishing to take part must book their children in with us in advance through email, telephone or Facebook. Places are limited.
Contact
details are at the bottom of this page. The day runs from 10am - 3pm, everyone brings their own packed lunch. The wood-fuelled rocket stoves are available for hot drinks and there is a kitchen shelter in case it pours down. Join us for the whole or part of the day.
The atmosphere is laid-back with no fixed agenda. For those already toilet trained there is a compost loo or 'wild wees' a-plenty for our younger participants still learning!
Activities are always overseen by Jane and Andy but parents are responsible for looking after their own children at all times in the woods. A complete change of clothes and footwear is recommended, including wellies for all!
Activities may include paddling and dam building in the stream, den building, low-level tree climbing, baking in the clay oven and craft creations with natural materials including clay face modelling ... with endless possibilities and we're always open to new suggestions.
These events will be roughly once a month throughout the year. Events will alternate between days for accompanied 0-5 year-olds and Family Days when the whole family are invited to come and enjoy a variety of woodland craft and spontaneous fun. We request a donation, payable on the day to help provide resources for Babes in the Wood events. Rates are as follows: 0-2 years and parents - free of charge, 2+ years - £5 for first child and £2 each for each additional child in the same family.
Community Workshops
A perfect opportunity to learn a variety of woodland crafts and skills, meet other interested people and have some fun in the woods.
Thanks to initial funding from the Belinda O'Flynn Trust, we offer woodland craft and conservation opportunities to local groups and individuals from the Bere Peninsula. These opportunities are listed in the Events Calendar above.
A packed lunch and sturdy footwear (boots not trainers) are needed for Workshops. Hot drinks and biscuits are provided for all volunteers, as are all tools required.
Workshop participants are asked to make their own way to Sallerton Wood. Please see the Location page of this website for the location of Sallerton Wood. Please car share where possible as parking at the woodland is limited.
Minors are welcome but must be accompanied by an adult.
To reserve your place, please contact us by using the details at the bottom of this page.
Woodland Craft Workshops - In addition to the opportunities listed in the Events Calendar at the top of this page, please do get in touch if you are in charge of or involved with a youth, school and/or community group on the Bere Peninsula who would be interested in a Woodland Craft Workshop, either in the woods or at your venue with our Mobile Workshop. Funding has been made available for such groups. Workshops can be tailor-made to suit your group. We look forward to hearing from you. Contact details are given at the bottom of this page.
Funding for Community Projects
Initial funding for the conservation projects and community projects at Sallerton Wood has been provided by the Belinda O'Flynn Trust. Further funding is welcomed so that we can continue to acquire and maintain the tools, equipment and other resources needed for the conservation and community work at Sallerton Wood.
Donations for this are invited and can be made in the following ways:
• Cheque made out to Sallerton Wood and sent to:
Andy Morton, 17 Chapel Street, Bere Alston, Yelverton, Devon, PL20 7DE.
• By credit/debit card or PayPal Account by clicking on the Donate button below (administered by Alan Morton at DMAP):
Contact details for Andy and Jane Morton:
Email:
andy@sallertonwood.org.uk
Mobile:
07722 435 964 (daytime)
Landline:
01822 841 718 (evenings)
Address:
17 Chapel Street, Bere Alston, Yelverton, Devon, PL20 7DE
Facebook:
Sallerton Wood